After 30/10/2013 registration via Internet will be closed. If you have some question, please contact webmedia2013 [at] dcc.ufba.br
Values in Brazilian Real (R$). Please see exchange rate.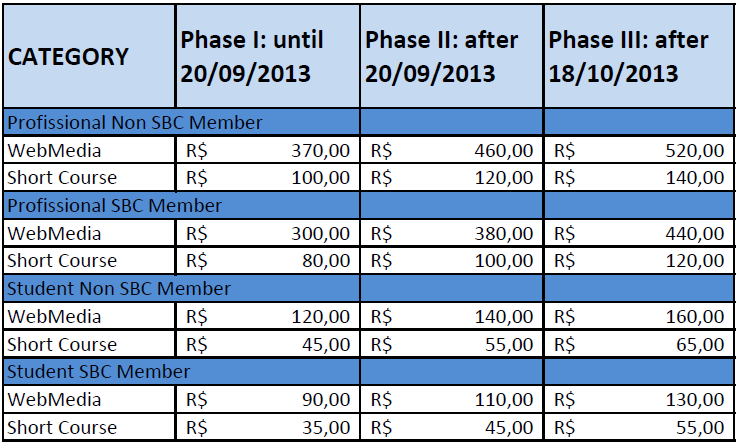 Registration System
http://centraldesistemas.sbc.org.br/ecos/webmedia2013
 
General Information
Registration is limited. No additional registration will be possible after the capacity of the rooms is reached. Then, early registration is encouraged.

Registration fees vary according to the type of category (Professional / Student), SBC membership (member / non-member) and registration date (Phases I, II and III). SBC members must be even with 2013 fee to benefit the reduced registration fees. 
It is important to note that early registrations (Phase I) have reduced fees up to 30% off for professionals and students.
The registration gives right to:
admission to all technical sessions and other activities of WebMedia 2013;

admission to all international keynote speeches;

conference cocktail;

attendee material;

conference proceedings;

coffee-breaks.
 
About the Short Courses
Each course must be payed individually.

To register for courses, you must also register for a conference.

Be careful not to register for courses whose meeting times overlap.
 
Information for Authors
At least one author of each paper must register at the conference. Check the registration deadline to ensure the publication of the paper in the conference proceedings.
 
Notes for Students
* Graduate, undergraduate and high school students that are not member of SBC must prove their condition by the presentation of a document from their institution certifying that they are currently registered as students. Documents must be sent to webmedia2013 [at] dcc.ufba.br. The document must be received at least one week before the event.
** There is a limited number of places for the undergraduate or high school student category. This category is being subsidized by the sponsors of the event. So, take advantage of them while they are available!
 
Other Notes
To be announced.